this recipe
MUFFINS FOR EVERYONE!!!!
Shouting is necessary because we've got good news over here: last week I took my most simplest and favoritest old fall-time cinnamon sugar apple cake recipe and made it into little – okay fine fine fine – HUGE whole wheat muffins. These pillowy beauties are not only mostly-good-for-you thanks to the whole wheat flour, coconut oil, less sugar, and deliciously sweet apple niblets in every happy bite, but also, and more importantly, they include a crunchy, delicate cinnamon sugar layer that is baked right into their adorable puffy tops.
In my dream life, you would walk over here this morning because 1) fall morning walks are everything, and 2) you'd be my neighbor, obviously, and we would sit on my couch in only the most comfiest jeans and sweatshirts with messy bun top knots (okay okay, you can do your hair, but I'll be having a messy bun top knot because I don't know any other way) and we would ravenously eat warm cinnamon sugar apple muffins and slurp on big mugs of strong coffee + cream and talk about life, because talking about life means more long stories which means more time to eat muffins. Right from the start, there would be absolutely zero pretense about eating just one muffin- no way no how. But there would be lots of good feelings and generally delicious, cinnamon sugary muffinery going on up in the howwwwwse.
This weekend I've been a muffin-making-machine because tomorrow (ahh! too soon!) Bjork and I are going on a local TV station to talk about things like pumpkin muffins and Pinch of Yum and Food Blogger Pro. Annnnnd I'm totally nervy because as much as I want to be kewl and brave and don't-care-relaxed-all-the-time, the word Anxious with a capital A probably best describes how I am about life things in general. So I'm stuffing my face with muffins to dull the feelings, er, no no no, I meant practicing making the muffins so I can be a completely confident muffin-maker and normal person on live television. But maybe it's a little of both.
When we were at the State Fair this year, we tried to get on TV by standing behind the evening news anchors during their live broadcast. We were so far out of the literal spotlight that we were just dark blobs floating around in the nothingness of the background and absolutely no one could have seen us if even they tried. But you guys. They did the count down and then the news started and we just stood there in the pitch black and no one could see us in a million years and I COULDN'T EVEN BREATHE. Like, sweaty palms, racing heart, acting a little too goofy to overcompensate for the inner nervousness of just being within 20 feet of a live TV broadcast.
I am honestly laughing right now. Am I really this person?
Just… ugh. Gimme a muffin.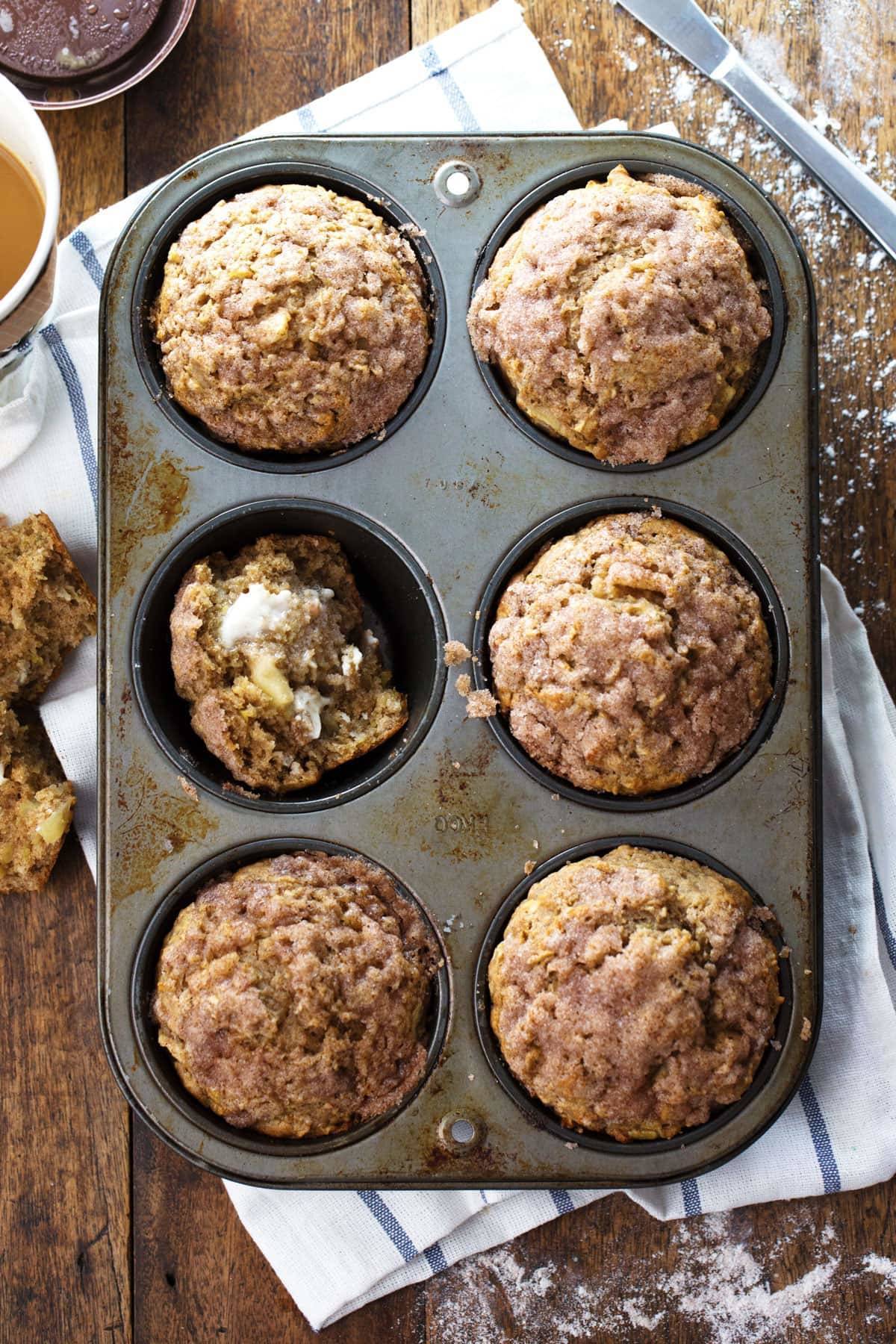 When get our five seconds of TV fame on the local news tomorrow, I'll be making some nice fallish pumpkin muffins, but it will be a tie for the muffins that I'll be dreaming about in my mind: the pumpkies or these apple muffins. Because as much as I love pumpkin, sometimes the internet just overwhelms me with everything pumpkin ever. And at that point, a girl just needs some sweet and juicy fall apples in her life.
Every fall we try to go to the apple orchard at least once to get apples and do all the cutesy stuff like ride around on the hay rides as adults with no children, stuff our faces silly with warm, fresh apple donuts, and take a series of selfies while safely hidden in the Honeycrisp row – hashtag appleorchard. This year we haven't orcharded yet and I'm hoping it's not too late because it's one of my fave times of the year, and besides, it's also usually the catalyst for the annual fall dream to buy a big house out in the country and let all of our little overall-wearing chilluns run free in the fields and live off of apples from the neighbors orchard. And I sort of love that dream.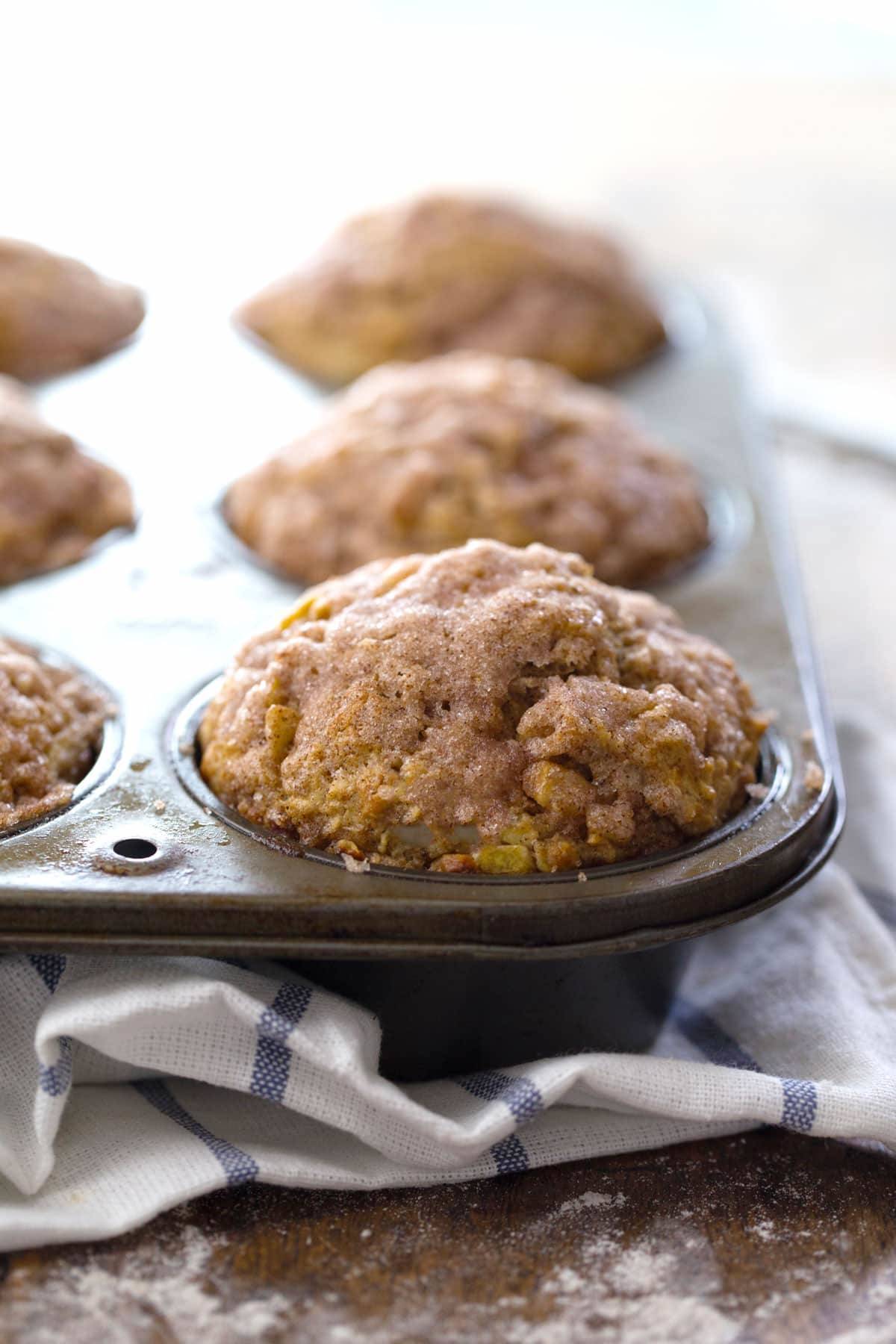 Even though this year's apples were bought in a pre-packed large plastic bag at the closest possible chain grocery store and there have been no charming or romantic fall visits to the apple orchard, the yummy apple muffin smell was still the same as usual and the good feelings (cozy // fall // Christmas! never too soon.) still completely stopped me in my work-from-home tracks when I opened the oven and let that cinnamon sugar apple muffin wonderfulness just completely permeate every corner of our house.
I could give you a whole long list of times and reasons and places that would be appropriate for making these muffins, but really, what needs to happen is you walking into the kitchen right now and scrolling down to see the recipe and experiencing the joy that is cinnamon sugar apple muffins in your mouth a-s-a-p. We don't even need to discuss that any further.
Sweet, wonderful, homey, cinnamon apple FALL swirling through your house today. That's what I'm talking about. ♡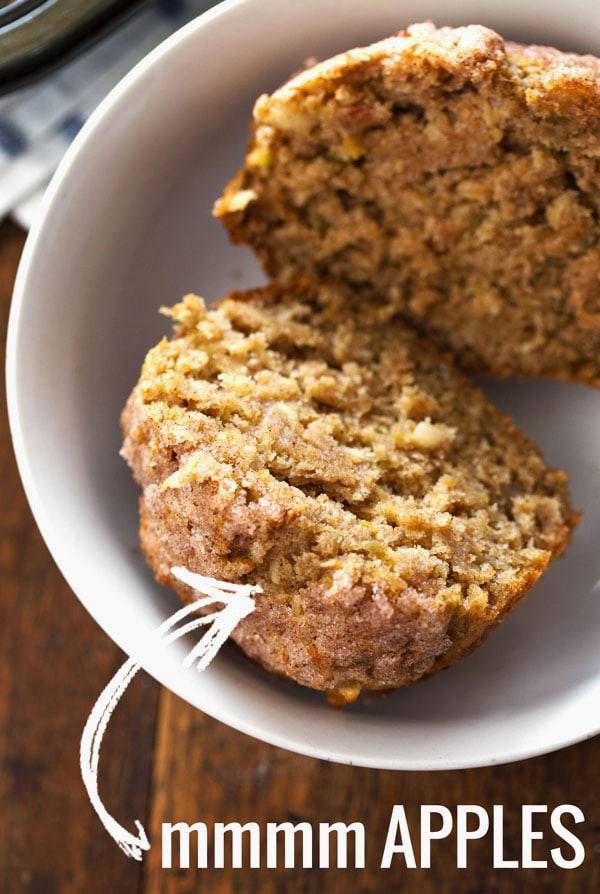 clock clock iconcutlery cutlery iconflag flag iconfolder folder iconinstagram instagram iconpinterest pinterest iconfacebook facebook iconprint print iconsquares squares iconheart heart iconheart solid heart solid icon
Healthy Cinnamon Sugar Apple Muffins
4.4 from 36 reviews
Description
These Healthy Cinnamon Sugar Apple Muffins use whole wheat flour, coconut oil, and less sugar to make for a healthy, cozy fall treat!
Ingredients
For the apple muffins:
For the crunchy topping:
Instructions
To prep ingredients: Microwave or heat the coconut oil until it's liquified. Repeat the same process for the milk to bring it to room temperature. (If you don't do this, the coconut oil will clump together when it mixes with the cold milk.) Add the vinegar to the milk and let it sit for a few minutes to turn into "buttermilk" – or just use real buttermilk instead!
For the muffins: Preheat the oven to 350 degrees. In a large bowl, whisk the coconut oil, buttermilk, brown sugar, egg, and vanilla until smooth. Add the flours, baking soda, baking powder, salt, and allspice. Stir until just combined. Fold in the apples. Scoop the mixture into a greased or lined muffin tin – mini, regular, or jumbo sizes will all work.
For the topping: Melt the butter for the topping. Add the sugar and cinnamon; spoon over the tops of the muffins. You only need a little bit to get the crunchy top effect, but if you love those crunchy cinnamon sugar tops, I'd suggest making twice or three times as much topping as what's listed here.
Bake the muffins for 15 minutes, more or less by a few minutes depending on size. The muffins should be golden brown with big round tops that spring back when you press them.
Notes
These are intended to be less sweet than a traditional muffin and very simply flavored. There is one teaspoon of allspice (which carries some cinnamony flavors) in the batter, but if you are looking for more flavor, add 1 teaspoon of cinnamon to the batter.
Keywords: cinnamon apple muffins, cinnamon sugar apple muffins, apple muffins
Load More Comments
Read Full Article https://pinchofyum.com/healthy-cinnamon-sugar-apple-muffins